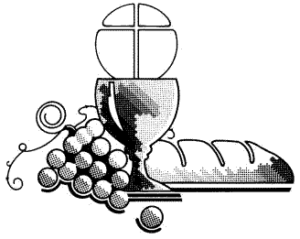 Can I take Communion in your church?
At Mighty Fortress, it is our sincere desire that all Christians be able to commune at our altar. The only thing we ask of you is that you agree with us in faith and practice. Therefore, we have prepared this tract to explain what we believe and teach regarding the Lord's Supper. We want the decision as to whether or not you commune with us to be a decision that you make yourself. However, God has instructed us in the Bible that we exercise a responsible communion practice. Therefore, we want your decision to commune with us to be an informed one.
We take the Biblical instructions regarding the Lord's Supper both literally and seriously. Jesus has given the Lord's Supper to his church as a gift; and like all gifts, it can either be used as it was intended, or abused according to human logic. We don't practice "closed" communion like the Roman Catholics, Eastern Orthodox, or Reformed Presbyterians do. Formal church membership in our congregation is NOT a requirement. On the other hand, we don't practice "open" communion either, where the only requirement is that you "love the Lord." Both practices are not consistent with Biblical teaching. We prefer the term "close" communion, a term that we would use to describe a close relative or friend. When we share a common faith, then we are "close."

The Real Presence
The heart and core of the Lord's Supper is Jesus Christ himself. In the Bible, Jesus says: "Take and eat, this is my body; take and drink, this is my blood." If we look at the original Greek text of the Bible, the word "is" has a strong added emphasis. Therefore, we believe that Jesus is truly present in the sacrament, and that we receive the true body and blood of Jesus in, with, and under the bread and wine. We do not believe that the bread and wine change physical substance, because the Bible still refers to the elements as bread and wine. We also do not believe that the bread and wine merely represent Christ's body and blood. "Is" and "represents" are words that have entirely different meanings, and cannot be interchanged. The Bible's emphasis of the word "is" gives further confirmation of this.
What happens in the Lord's Supper?
When Jesus instituted the Lord's Supper, he was very specific: "Given and shed for you for the forgiveness of sins." Therefore, we believe exactly what Jesus has told us. Dr. Martin Luther puts it quite well when he says: "…whoever believes these words, has what they declare and mean, namely, the forgiveness of sins." Also, "For where there is forgiveness of sins, there is also life and salvation."
We certainly have forgiveness of sins without taking the Lord's Supper. But when a person partakes of the Sacrament, the forgiveness Jesus has won "for you" becomes a more personal and individual thing. By its very nature, receiving the Lord's Supper gives strength to a person's faith.
When we take the Lord's Supper, it is Christ's memorial feast. Therefore, we also do it in remembrance of him, as we continually proclaim the blessings of his death and resurrection until he comes again in glory.
Preparing to receive the Lord's Supper
Dr. Martin Luther says that a person, "…is truly worthy and well-prepared, who has faith in these words, 'Given and shed for you for the forgiveness of sins.'" Therefore, a person must believe that they are a sinner who desires the forgiveness that can only come by grace through faith in Jesus Christ their Saviour.
The Bible says that a person who wishes to commune must be able to examine themselves (1 Cor. 11:27-28). When we do this according to the Ten Commandments, we come to the conclusion that we are sinners deserving of God's wrath and punishment. Therefore, we come to the Lord's Table with the desire to be forgiven, and the assurance that Christ has atoned for our sins; and through faith, that forgiveness is indeed ours. As forgiven and redeemed children of God, we make it our honest desire to repent and amend our sinful life with God's help.
The Bible also says that a person must recognize Christ's real presence in the Sacrament as it has been previously explained (1 Cor. 11:29).
The Bible makes it very clear that partaking in the Lord's Supper in an unworthy manner comes with some serious consequences. 1 Corinthians 11:20-29 explains this when describing the abuses of the Lord's Supper that were occurring in the Corinthian congregation.
It's because of this that we exercise a responsible Communion practice. It would be a serious lack of love on our part if we ignored the directives God has given us. Therefore, we have provided you with this tract to acquaint you with the Biblical teachings regarding the Lord's Supper, with the hope that you will decide to commune with us, and do it often.
Is there anybody we wouldn't commune?
We would not commune somebody who is not a baptized Christian, somebody who refuses to recognize Christ's true body and blood in the Sacrament, somebody who adheres to false doctrine, or somebody who lives in persistent and unrepentant sin. It would also not be proper to commune somebody who cannot examine themselves, such as young children, or a person who is not mentally cognizant or in a comatose state. Our church offers confirmation and communion classes to prepare children for this privilege. We also offer similar adult instruction classes for those new to the Christian faith, or for anybody who would like to further explore what we believe and teach. We want everybody to appreciate and experience this gift Christ has given his church.
WELCOME TO THE LORD'S TABLE!
Mighty Fortress is a member congregation of the AALC, and is a partner in ministry in full Communion fellowship with the Lutheran Church-Missouri Synod.